The Premium Content and SoundCheck™ addons in Noteflight Learn can be purchased for all users or a subset of users. If you have purchased either SoundCheck or Premium Content for all users then they will automatically get access when a new user is created. For existing users or when purchasing for a subset of users, teachers can easily control access for all members. You may add and remove addons from either the entire student list in your site or from individual groups. To add or remove permission to access addons, please follow the steps below:
1. Log in as the Admin or a Teacher in your Noteflight Learn site.

2. Select Manage Site in the header, or navigate to one of your groups. For Google Classroom integrated sites, your classes are automatically created as groups.

3. Select "Manage Addons" from the left column.
4. Add Students or Teachers by selecting "Add Premium Content" or "Add SoundCheck". You can add all members of the site or group or select individual users to add.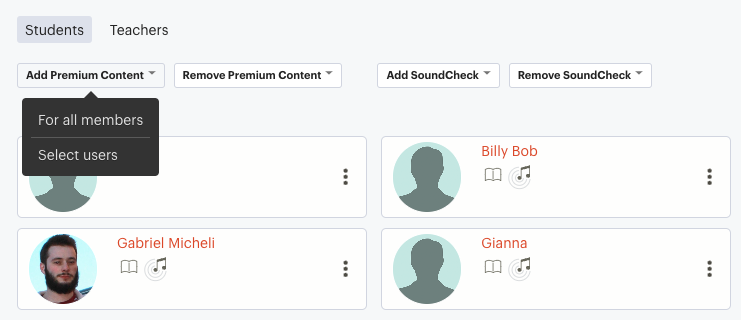 5. If you choose "Select users" you can individually select the users that you want to have access:

6. To remove members, select the "Remove Premium Content" or "Remove SoundCheck" options.