Noteflight Premium and Noteflight Learn users can enjoy more functionality in using the audio mixer to customize playback. This feature has many great uses, including adding Noteflight instruments to the audio of a YouTube video, hearing recorded tracks playback with a Noteflight instrument, or recording along with a YouTube or Soundcloud file.
Here is how it works: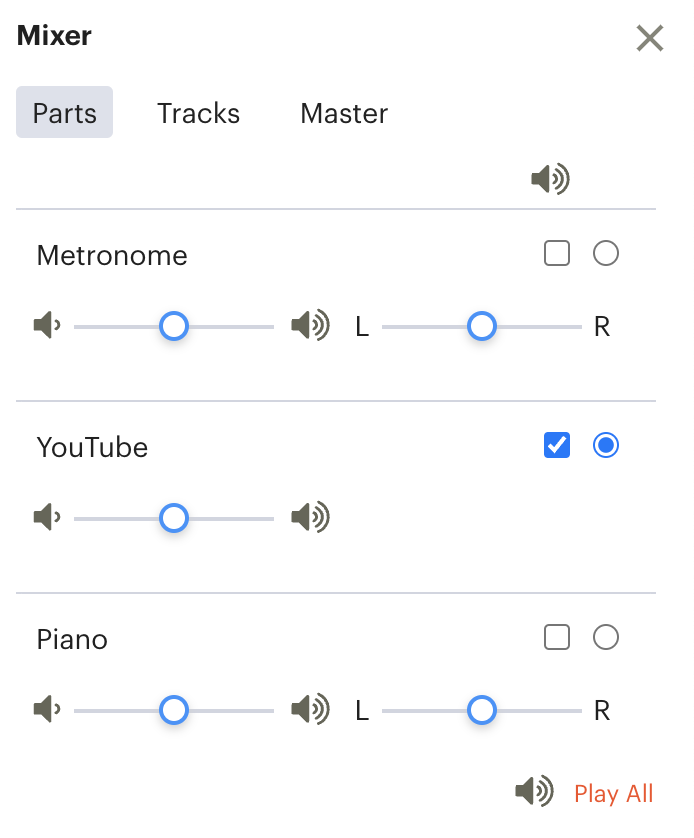 1. The Parts Tab of the Noteflight Mixer includes the metronome, any YouTube or Soundcloud synced media and all of the Noteflight instruments used in the score. Simply select which part to hear and use the volume sliders to mix the audio. Any combination of parts may be selected for playback. Because of how synced media is implemented in the browser, it is not possible at this time to include the left/right pan options on synced media, but this option is available on all other parts.
2. The Tracks Tab of the Noteflight Mixer allows users to choose the audio playback source when an audio recording exists. After recording an audio track, the recorded track will appear under the corresponding part in the Tracks Tab of the Noteflight Mixer. Use the checkboxes to select which audio source should be used for the playback of each part, and you can even check both to combine playback: